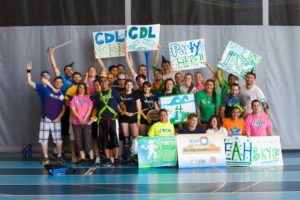 The Coquitlam Dodgeball League was founded in the Fall of 2007 as an extension of the Vancouver Dodgeball League. What started modestly as a 16 team league has blossomed into an organization that now hosts 40 teams and over 350 players.
In accordance with the International Dodgeball Association (IDA), the CDL operates under its Official Dodgeball Rules and is a proud member of its initiative to build a strong, social community around the game of dodgeball in the Coquitlam/Tri-Cities area.
The Coquitlam Dodgeball League is also an active participant in the community, both hosting and contributing to a variety of local events that benefit organizations such as the Canadian Cancer Society, SHARE, and the Brain Tumour Foundation of Canada.
Unique to the CDL is the unparalleled sense of camaraderie and community that exists amongst its players. This league is as focused on developing a strong social circle and providing its members with ample opportunities to have fun, be fit, and meet great new people both on the courts and off at our weekly Pub Nights and other various events. While the dodgeball may always be at the forefront, in the CDL we always remember that the "C" is for party.